"This Could Be the Perfect Niche for Your Coaching Practice"
(plus get 30 ICF CCE's and possible multi-year contracts)
If Transformational Change is your passion and you're longing to participate in multi-year coaching engagements in a high impact niche that produces sustainable results ...Watch this video to get the details...
Check your inbox to confirm your subscription
The Commitment Management Academy
The Commitment Management Academy provides coaching and training programs that optimize leadership, accountability, performance and fulfillment in the new, rapidly changing workplace.
We specialize in developing Commitment Management leaders and coaches who maximize performance in large systems -- especially government -- and use advanced, proprietary technology to produce breakthrough levels of sustained satisfaction for both internal and external customers.  
As academy founder Birgit Zacher Hanson says, "Don't just BE the change, LEAD it!"
You can start today with our flagship program, "Commitment Management 101," which is based on our best-selling book, "Who Will do What by When? How to Improve Performance, Accountability and Trust with Integrity." Then advance to higher-end leadership/coach training, including certification as a Commitment Management Coach.
Continuing Coach Education (CCE)
Commitment Coach Certification became an ICF Certified Program in 2020. Successful participants receive 30 hours of continuing education credits, of which 24 hours are core, and 6 are resource hours. Twenty-three hours will be in-person during one week, with the remaining hours completed online or on the phone.
The Program Consists of five parts:
1.       Pre-Live event work 
2.       Week-long live event training course  We meet for 4 hours each morning. This allows the opportunity to apply program learning in the afternoon and participate in observed coaching sessions.
3.       Assignments
4.       Afternoon coaching observations
5.       Post-live event group coaching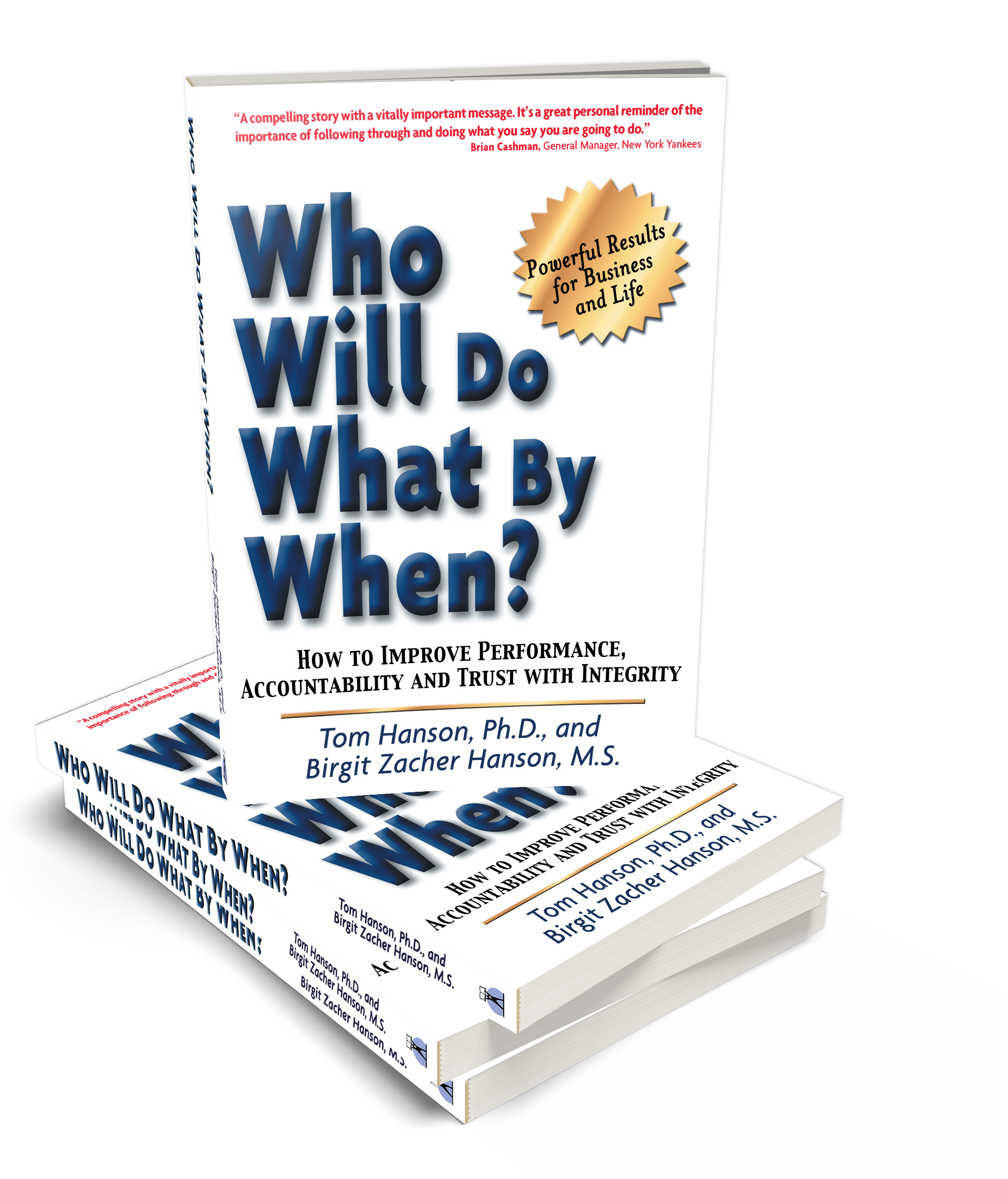 The Coaching Program Brings the Strategies, Tools and Techniques in Our Best Selling Book to Life
"Formerly a successful salesman, Jake McKay is now a failing manager. Join him as he races to learn the fundamentals of team and personal effectiveness from his coach before he loses his job -- and the woman he loves.


"Along the way you arm yourself with the tools you need to cut through the daily tangled web of organizational politics and interpersonal issues that hinder performance."
You Too Can be a Transformational Coach
"A good executive coach can help a leader identify and mitigate her leadership weaknesses.
"A great executive coach can help a leader identify and enhance her leadership strengths.
"A transformative executive coach helps a leader align her work with her deeply-held values and build trusting and energizing relationships that engage her people to optimize performance.
"Birgit Zacher Hanson is a transformative coach."
Meghan Flanz, Counselor to the General Counsel and Director, Office of Accountability Review
Office of General Counsel, Veterans Administration